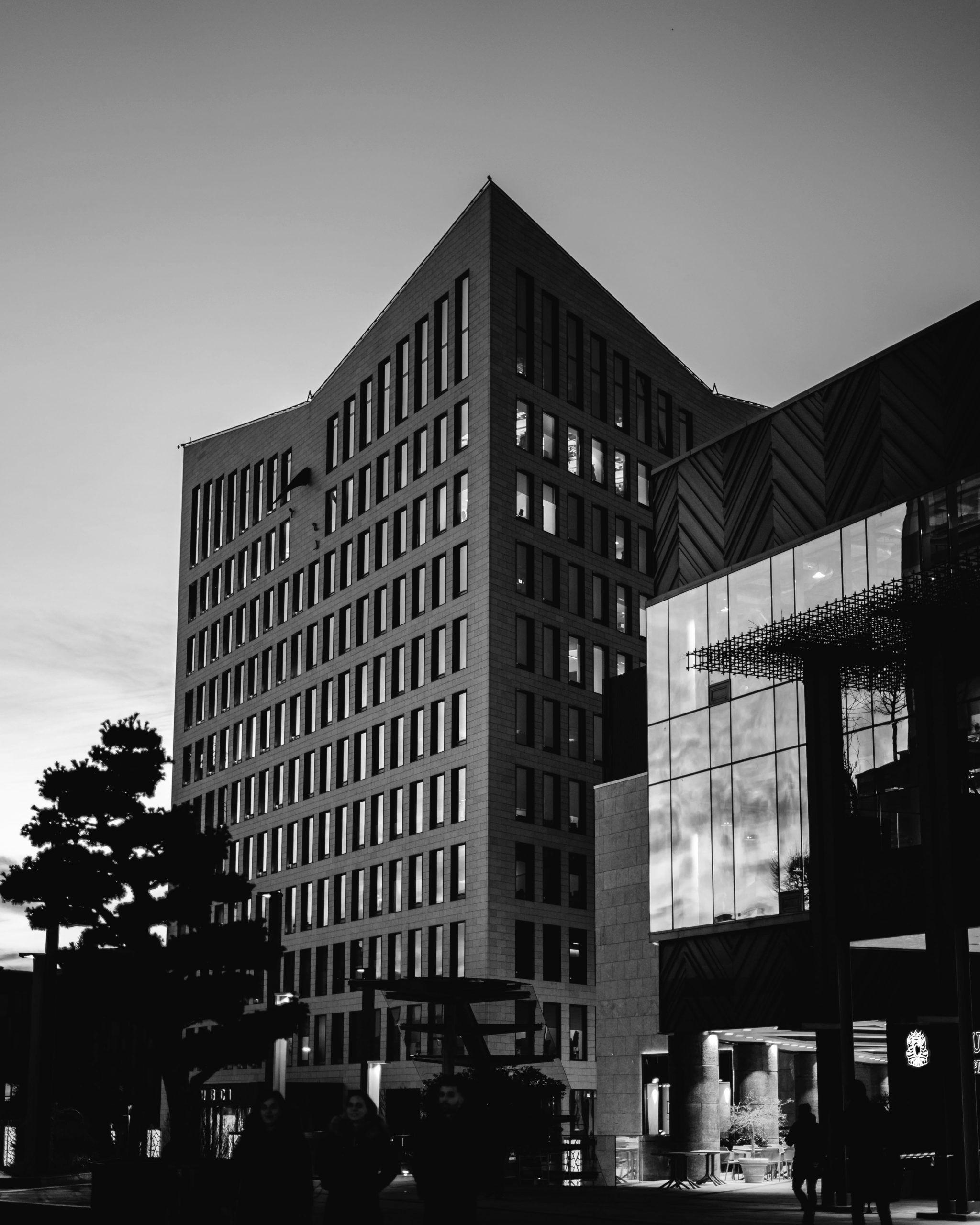 News
Click here to register for NYMBA 23 Annual Convention and Golf Tournament!
---
---
The Homeownership Edition
---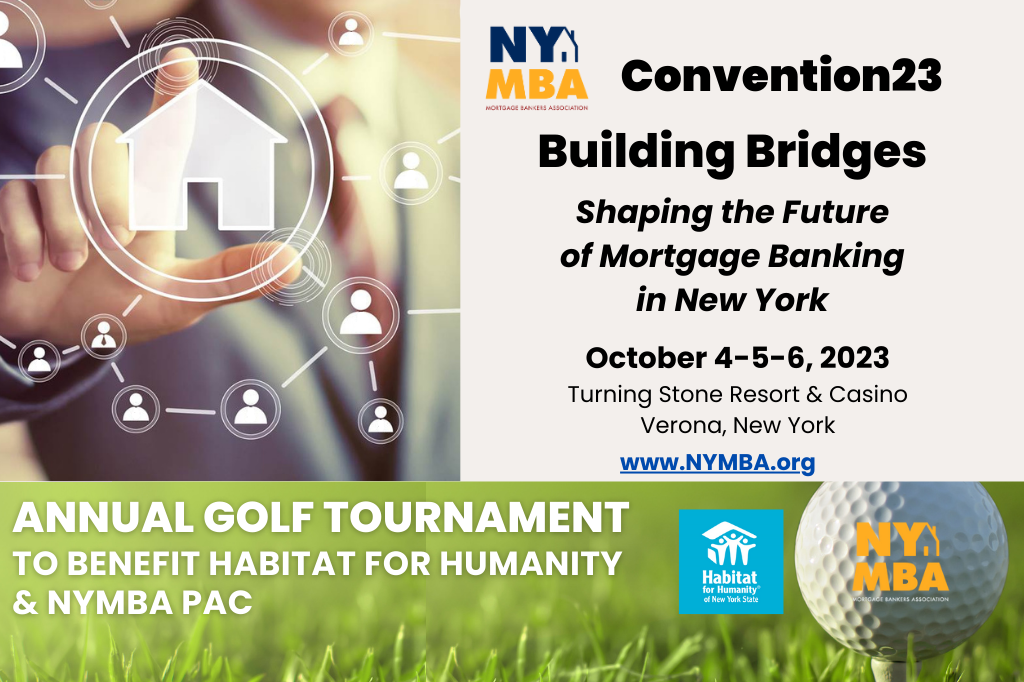 Building Bridges: Shaping the Future of Mortgage Banking in New York
Join us October 4-6 for a premier event that brings together industry leaders, professionals, and innovators in the mortgage banking sector. This convention serves as a platform to foster collaboration, share knowledge, and explore emerging trends, ultimately shaping the future of the mortgage banking industry in New York and beyond.
Take advantage of early bird registration prices until August 7th!
Room block guaranteed until September 3rd.
Proceeds to benefit Habitat for Humanity and NYMBA PAC.
Highlights current legislative issues and the Association's advocacy efforts on behalf of members.
---
---
At the Federal level, Rep. John Rose (R-TN) introduced H.R. 4198 in June, the Protecting Consumers from Abusive Mortgage Leads Act, which would eliminate abusive trigger leads while preserving their use in appropriately limited circumstances – such as communicating with existing customers. The Rose bill is a new and separate proposal that differs from H.R. 2656, as introduced by Rep. Ritchie Torres (D-NY) in April, which would issue a blanket ban on trigger leads. Specifically, H.R. 4198 would allow for prescreen reports (trigger leads) to be permissible under the Fair Credit Reporting Act (FCRA) in limited circumstances during a real estate transaction. A consumer reporting agency would not be allowed to furnish a trigger lead to a third party unless that third party certifies having a consumer's consent or a current relationship with the consumer.
Why it matters: Your advocacy matters! In April, mortgage professionals came to Washington and explained to lawmakers the potential consumer harm related to trigger leads, especially as some companies use them to misrepresent themselves and attempt to confuse, deceive or inundate recent mortgage applicants with phone calls or direct mail. The introduction of H.R. 4198 is directly responsive to those efforts.
What's next: MBA will continue its ongoing dialogue with Congressman Rose – and lawmakers on both sides of the aisle – to explore legislative reforms to stop the unwanted harassment of consumers while maintaining an efficiently-functioning market.
Please take a moment and contact your U.S. Representative TODAY and urge them to cosponsor H.R. 4198.
---
---
The SECURE Notarization Act (H.R.1059) to be voted on February 27th complements the 42-state remote online notarization (RON) laws by creating a set of minimum standards while allowing states the flexibility and freedom to implement their own RON standards.
---
---
Decision Issued in Kessler Case
On February 14, 2023, the New York Court of Appeals issued its decision in the case of Bank of America v. Kessler. As you are aware, last year, the Kessler decision issued by the Second Department resulted in a significant upheaval in the state, resulting in a plethora of dismissals or voluntary discontinuances due to 90 day notices containing additional information including disclosures required by Federal law.
NYMBA was one of multiple trade organizations that filed an Amicus Brief with the Court of Appeals on this case, recognizing the impact that the case had on its members and industry as a whole. Today, we are excited to announce to our members that the Court of Appeals reversed the decision issued by the Second Department Appellate Division, holding that the inclusion of concise and relevant additional information did not void the notice sent pursuant to Real Property Action and Proceedings Law §1304.
In reviewing the objectives of the legislature in enacting §1304, the Court identified two parts to review: (1) that the notice "shall include" the specified language; and (2) the notice must be sent in a separate envelope. Relying on the plain language and reading of the statute, the court determined that, in reference to the wording "shall include," the legislature did not intend for the notice to only include the statutorily required language. As such, as the notice in Kessler included the required language per §1304, the notice complied with the requirements.
The focus then shifted to the main issue at the heart of the case as to whether the additional language violated the separate mailing requirement by constituting "other mailing or notice." The Court of Appeals noted that to read this provision as the lower courts and apply a bright line rule "would lead to nonsensical results." The Court clarified that "other mailing or notice" refers to notices such as default notices, interest rate changes, monthly statements, or servicer change letters. However, again looking to the legislative purpose of §1304, the Court concluded that since §1304 was designed to help borrowers avoid foreclosure, the inclusion of additional rights actually furthered the purpose of §1304. Finally, the Court noted that applying the bright-line rule also would conflict with the disclosure requirements of federal law.
Please note, the Court was conscious to note that additional language should not be "false, misleading, obfuscatory, or unrelated to the purpose of the notice", and inclusion of such language could still void the notice.
By Natalie Grigg, Partner
Woods Oviatt Gilman, LLP
---
New York MBA–2022 Year in Review
NYMBA's newly formed Communications Committee has been hard at work! Our newsletter has been expanded and improved to bring members more information on important issues and industry happenings. Quarterly issues will feature the new format and continue to provide updates on upcoming events, Legislative Issues, Loan Servicing, Technology, Affordable Housing, Education and more! Check it out HERE and let us know what you think!
---
CFPB: Treatment of Certain COVID-19 Related Loss Mitigation Options Under the Real Estate Settlement Procedures Act (RESPA), Regulation X; Interim Final Rule
The Bureau issued this interim final rule to amend Regulation X. The amendments temporarily permit mortgage servicers to offer certain loss mitigation options based on the evaluation of an incomplete loss mitigation application. Eligible loss mitigation options, among other things, must permit borrowers to delay paying certain amounts until the mortgage loan is refinanced, the mortgaged property is sold, the term of the mortgage loan ends, or, for a mortgage insured by the Federal Housing Administration, the mortgage insurance terminates. These amounts include, without limitation, all principal and interest payments forborne through payment forbearance programs made available to borrowers experiencing financial hardships due, directly or indirectly, to the COVID-19 emergency, including a payment forbearance program offered pursuant to section 4022 of the Coronavirus Aid, Relief, and Economic Security Act. These amounts also include principal and interest payments that are due and unpaid by borrowers experiencing financial hardships due, directly or indirectly, to the COVID-19 emergency.
---
New York Passes Legislation to Extend COVID Hardship Declaration Moratorium on Residential Foreclosure and Eviction Proceedings
The Hardship Declaration requirements of the New York COVID-19 Emergency Eviction and Foreclosure Prevention Act of 2020, scheduled to expire on August 31, 2021, were extended by the legislature until at least January 15, 2022. Click HERE for a complete copy of the legislation.
Additional language was added to the foreclosure Hardship Declaration as of September 2, 2021. Hardship Declarations included with the 90 day notice sent in after September 2, 2021 must include the additional language. Click HERE for copy of the new Hardship Declaration for foreclosure and HERE for a copy of the Hardship Declaration for Eviction. The additional language is highlighted in yellow.
The legislation adds three new provisions that allow a Plaintiff to challenge the claimed hardship. These additions were added to meet the requirements of an August 12, 2021 U.S. Supreme Court Ruling that found that the eviction Hardship Declaration "scheme violates the court's longstanding teaching that ordinarily 'no man can be a judge in his own case' consistent with the Due Process Clause." The Hardship Declaration includes notice that the Plaintiff can challenge the declaration of hardship. New foreclosures and residential evictions can be filed even if a Hardship Declaration was returned by the mortgagor if an affidavit is provided that states that "… the foreclosing party believes in good faith that the hardship certified in the hardship declaration does not exist." In pending cases the Plaintiff can challenge the Hardship Declaration by making a motion asking the court to hold a hearing to determine whether the defendant's hardship claim is invalid. The Plaintiff must have a good faith belief that the defendant has not experienced a hardship to make this motion.
The remainder of the foreclosure related requirements of the COVID-19 Emergency Eviction and Foreclosure Prevention Act of 2020 were not changed.
Click HERE to read the NY Senate Press Release.
More information on the COVID-19 Emergency Eviction and Foreclosure Prevention Act of 2020 and the foreign language translations of the Hardship Declaration, when updated by the Office of Court Administration, are located on the NY Court's website at:
https://www.nycourts.gov/covid-eefpa.shtml
https://www.nycourts.gov/eefpa/
by Adam Gross, Partner
Gross & Polowy, LLC
NYMBA Leaders Attend 2021 National Advocacy Conference
May 11-12 The National Advocacy Conference (NAC) is MBA's National advocacy event designed to empower MBA's members and demonstrate to policymakers the strength of our industry's unified voice.
Leaders of New York MBA met with Congressional representatives to discuss how legislation affects our business, our customers and the communities we serve. Key issues included: Affordable Housing (HR2143/S98) which provides a tax credit to rehab blighted homes; Expand housing opportunities for Low-to-Moderate Income wage earners and minority buyers by ensuring ease of access to down payment assistance funding with; encourage congress to urge the CFPB to ensure the General Qualified Mortgage (QM) final rule takes effect without changes when the temporary extension expires in 2022; ask Treasury & FHFA to provide GSEs with a longer compliance timeline for changes/restrictions (i.e. 7% limit on 2nd home and investment properties and "cash window" delivery option); support the Secure Notarization Act of 2021 which would allow notaries in states without RON laws to perform Remote Online Notarization that follows minimum standards and requires tamper-evident technology and multifactor authentication for identity to prevent fraud.
NYMBA Offers testimony in Assembly Hearing on RON
May 7, 2021 A hearing was held for New York State Assembly committee members on Remote Online Notarization (RON) and NYMBA offered testimony on behalf of industry supporting the passage and adoption of RON in New York. Assembly member Rozic's bill (A0399A) mirrors Senator Skoufis' bill (S1780B) which passed in the Senate two years in a row. For a copy of NYMBA's testimony click HERE. To view the Assembly Public Hearing on RON click HERE.
Call To Action
March 2021 NYMBA members participated in a Take Action campaign to urge legislators to support critical legislation that would provide protections and benefits to borrowers and homeowners. The following four priorities were addressed:
-Support the enactment of Remote Online Notarization (RON); (PASSED IN THE SENATE)
-Support provisions that appropriately facilitate the LIBOR to SOFR transition (PASSED)
-Support legislation that restricts the registry and limits registration fees for foreclosed properties (PASSED)
-Support adoption of the The New York Land-Home Property Act that would provide the ability to convert title for manufactured homes from chattel to real property for title insurability and more favorable financing terms. (SPONSORED)
Why it matters: These bills are priorities that will allow our industry to serve the needs of consumers more adequately during the ongoing pandemic and ensuing recovery period. NY MBA and the national MBA have been highly engaged and supportive of these policy items and initiatives.
HUD's COVID-19 Home Equity Conversion Mortgage (HECM) Property Charge Repayment Plan (12/15/2022) ML 2022-23 FHA Expands Mortgage Eligibility For Borrowers Previously Affected By COVID-19 (7/7/2022) Mortgagee Letter 2022-09 VA Loan Repayment Relief for Borrowers Affected by COVID-19 Extended to 7/1/2023…