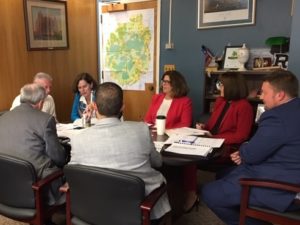 October 4, 2019:  Loan Servicing Committee members were asked to meet with some members of the New York State Legislature regarding "Zombie Properties" and foreclosures in the state. Assembly members Fahy and McDonald and Senator Breslin were interested in how bid prices are arrived at for properties at foreclosure auctions. The issue of maintenance and upkeep of vacant properties that are mortgaged was also raised.
Jodi Gaines, NYMBA committee chair, provided an overview of the Loan Servicing Committee and the working groups that were formed in an effort to address vacancy and blight; the foreclosure court backlog in New York; improving relationships and communications among all stakeholders; and industry professionals sharing best practices.
NYMBA reviewed investor and insurer requirements and instructions to banks/ loan servicers relative to arriving at bid prices at foreclosure sale/auction. Most financial institutions focus on current economic variables, not speculation–per shareholder and credit risk policies and have proprietary foreclosure bid strategies. NYMBA dispelled the perception that banks/servicers hold onto REOs as it is more costly to hold properties in inventory compared to selling them to a third party.
Each of New York State's 62 counties has its own procedures and processes for handling foreclosure matters. Zombie Properties are identified as vacant and abandoned–including non-mortgaged properties; as a result of a number of circumstances: the death of a property owner, tax payment delinquencies and mortgage default are among the top causes. These properties are typically neglected resulting in a negative affect on neighboring property values and a drain on local governments.
Foreclosure timelines in New York are one of the longest in the country. Court delays occur due to the unique processes judges in each county employ when working with foreclosures. Until the backlog of foreclosure cases is addressed, New York will continue to encounter issues with vacancy, abandonment and blight. NYMBA continues to be an advocate for a fast-track foreclosure process of vacant and abandoned properties. NYMBA's loan servicing committee offered suggestions to improve efficiency thereby reducing the length of time it takes to complete foreclosures in New York.
NYMBA continues to be a resource to law makers and stakeholders, and works toward identifying concerns, presenting solutions and preserving the housing market for New York consumers. New York Mortgage Bankers Association supports homeownership for New Yorkers throughout the state.