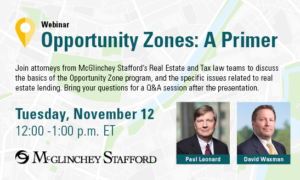 Know what it is, how it works and how it is applied.
Join attorneys from McGlinchey Stafford's Real Estate and Tax law teams at noon on Tuesday, November 12 for Opportunity Zones: A Primer, a webinar on the basics of the Opportunity Zone program and the specific issues related to real estate lending.
What you'll learn: At the conclusion of this webinar, you will understand the nature of the Opportunity Zone Program, where Opportunity Zones are located, the primary tax benefits of investing in Opportunity Zones, typical structure of investments in Opportunity Zone real estate, and more.
Webinar Cost
Members:     $15          Future Members/Non Members: $39
---
About the Presenters
Paul Leonard (Birmingham) has provided taxation counsel to companies throughout the U.S. for 30 years, structuring entities and agreements for asset protection and minimizing taxes from the formation to the sale of the business. He has substantial experience in the use of various economic development tools and has represented both large and small projects relying on state and federal historical tax credits.
David Waxman (Cleveland) is a real estate attorney with more than 30 years of experience advising clients of all types and sizes on acquisition, development, redevelopment, construction, financing and leasing, environmental compliance and insurance, and business acquisitions and divestitures. He is at the forefront of helping investors, business and property owners, and developers improve their return on investment by participating in the Qualified Opportunity Zone provisions of the 2017 Tax Cuts and Jobs Act.